To enquire about current horses for sale contact Ken on 0879549640
Meet our lovely registered Connemara pony Maplevalley Breeze Mai, grey 4yo, 147cm
Sire: Tulira Robuck
Dam: Brownhall Breeze
This homebred 4yo is by the famous sire Tulira Robuck who not only breeds champions but is also a champion himself in his own right winning numerous prizes over the years. Brownhall Breeze is a class 1 Connemara mare by Black Shadow who himself has many results in both the show ring and on the showjumping circuit. He is by the Grade A International Showjumper Silver Shadow. Her dams pedigree includes famous sires such as Coral Gold, Coral Dun and Carrantubber Lad.
Maplevalley Breeze Mai has impeccable stable manners and is quite to ride, wash, box and for farrier.
Regularly hacks out over large woodland estate both alone and in company. Currently jumping a course of 90cm with scope for a lot more. Jumping cross country fences up to 1mt.
N/N for hoof wall separation disease.
Videos available on request.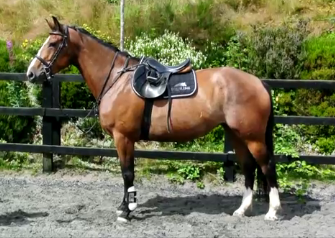 *****Sold*********
166cm, Bay, 4yo mare
Sire: Rainstown Hollow
Dam: Chip of Diamond
Dam's Sire: Coevers Diamond Boy
She is broking and riding and has schooled over cross country and show jumping fences. Has participated in woodland ride outs. Will hack out alone or in company.
Lovely balanced canter with brave and scopey jump. Currently riding a course of 90/1mt.
Video available at: https://www.youtube.com/watch?v=PxeBhz6slBE&t=1s
Contact 0879549640 for more information.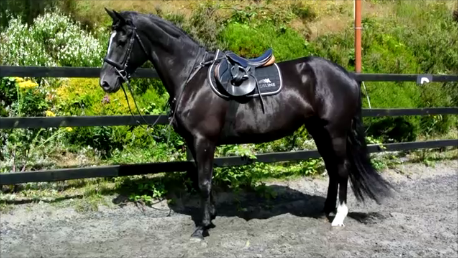 *********Sold***********
Maplevalley Kimberly
Black, 4yo, 167cm, mare
Sire: Maplevalley Master Class …
Dam: Lady Drakkar
Dam's Sire: Drakkar Des Hutins (Narcos II)
Nice easy kind temperament with correct conformation and super movement.
Showing great promise on both the flat and over a fence. Is a brave and intelligent horse over fences.
Competed at unregistered show jumping and cross country. Has hunter trailed and beach and woodland ride outs. Hacks out alone or in company.
Quite to box, wash, etc
This horse would be a great prospect for the future.
Video available at: https://www.youtube.com/watch?v=CtgSKHPTjo0&t=1s
Contact 0879549649 for more information.